The girls are all tucked in warm keeping their queen cozy now that snow is flying.  I don't see them much these days, though there is a path through the thickest of drifts out to the apiary.  It leads right up to my colorful boxes so that I can knock at their door and listen through the quiet of the snow for a responding hum, telling me all is well.
I don't blame them for staying in where they can keep each other warm by generating their own energy.  I too like to keep cozy when the coldest of cold hits our area.
Thankfully, there are plenty of "bee" things to do – even in the coldest of winter.
I was unlucky last year and lost a colony  in that last brutal month-long blast of cold air that clung to our region.  (OK – truthfully, I lost more than one colony).  While it saddened me to have lost the ladies, they did leave me with so many gifts.  There was honey to harvest!
After harvesting the amazing honey they left for me, I had a bucket of beautiful, pure golden wax.  I took the cappings and the comb from the failed top bar hive and placed it lovingly into a bucket last summer.  The bucket I set aside.  It sat and sat.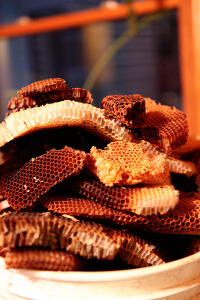 And now, we are snowed in and I have a bucket of wax and dry, cracking lips and skin from the cold.  So, it seems to be the appropriate time to use that wax to create products much needed this time of year.  I can use this gift of wax to create things like lotion and lip balm.
Note:  I am quite new to this, so please search for other ways of doing these things in case my "newbee" style needs some work.  But, here is the process I followed.
First, I obtained a double-boiler to warm the wax slowly and melt it.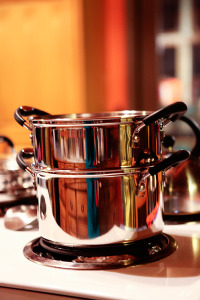 Since I am melting my wax in the middle of winter in Michigan, I did not opt for a solar wax melter, though I really am interested in trying one out one day and don't rule that out as a method for melting wax.
I added water to the bottom pan and comb to the top.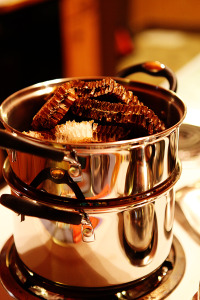 I slowly warmed it up until the wax took a liquid form.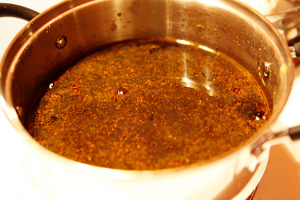 Next, I filtered out the black gooey gunky stuff.  Mine is mostly dead bees and debris the poor ladies didn't have time to remove from the hive.  I have heard this is great to use in the smoker and so I have set it aside for use this summer.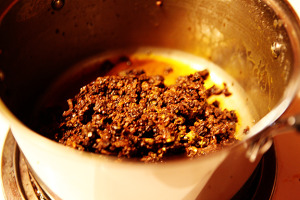 I let this hot wax cool for several hours.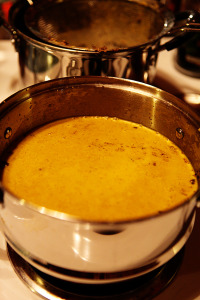 Then, I warm it again and pour it through another filter.  I have read to use cheesecloth for this, but I decided to use a fabric bag I have for straining impurities when I can jellies. It worked great and can be found in the canning section of big stores during the canning season.  The holes are very small and it filters out anything that isn't wax.
I pour it into 4 oz plastic containers to cool.  Since I won't be using a lot in my recipes (just enough for my family and maybe some friends if I have any left), I don't want to have large-sized wax blocks.  Just a little to use as needed.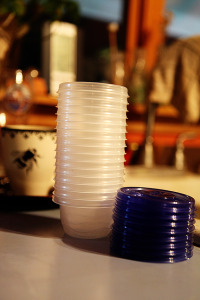 This whole process took me a few nights because I did it in between events and chores.  So, I am happy to have small containers of golden beeswax on my table ready to be made into something amazing, rather than a large bucket of comb and cappings sitting around on my porch.  I can't wait to try out my lip balm recipes – which I will be sharing with you soon if they turn out.  If not, then look for a recap of what not to do when making lip balm.
In the meantime, stay warm and have fun melting things!
Views and information presented here are of the contributor, and not necessarily the Kalamazoo Bee Club.